Custom Paper Sculptures
by Daryl J Ashton
~~~~~~~~~~~~~~~~~~~~~~~~~~~~~~~~~~~~~~~~~~~~~~~~~~
Introducing original and custom 3D Paper Sculpture designs.
Daryl offers original and custom works in both white-on-white and full color 3D paper media. Choose from themes as varied as sea life, fauna, flora, and geometric designs, or commission a sculpture with a theme of your own. Her paper sculptures are realistic, highly detailed works that reflect a clear understanding of the subject matter.
Daryl's designs can add a one-of-a-kind touch to your home, business decor, or company publications.
About the artist. Daryl has several years of freelance experience in the arts. Her pen & ink illustrations have been published in scientific journals and medical texts. She has attended the Philadelphia College of Art, the Art Institute of Philadelphia, and the Temple University Tyler School of Art.
Daryl's works were recently on display at the Brigantine Cultural Arts Commission exhibit in the Brigantine Historical Museum, Brigantine, NJ. As the November 2010 Brigantine Cultural Arts Commission Artist of the Month, pieces works were on display in Brigantine City Hall.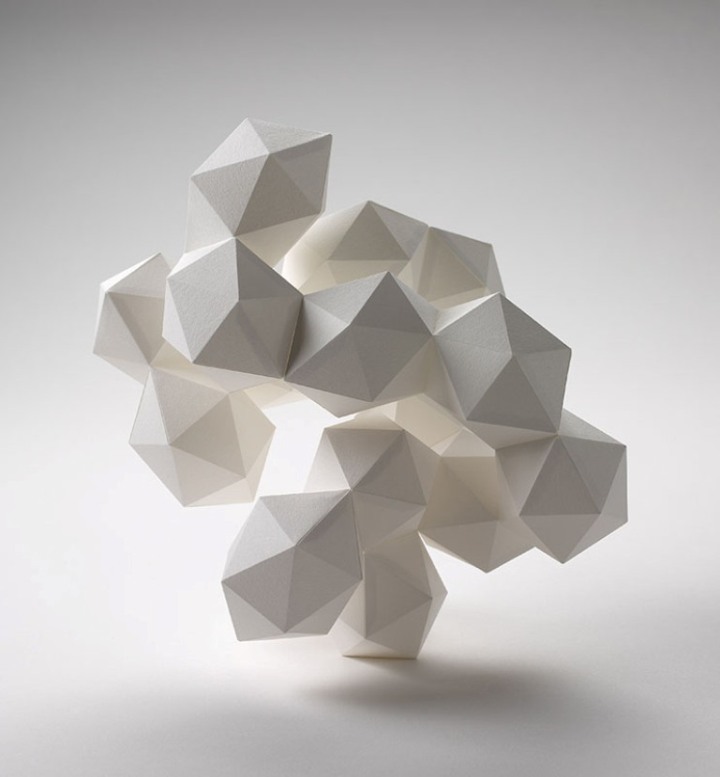 A Sample of Daryl's Work
3D Geometric (white-on-white) - This multifaceted geometric design is a free standing three dimensional piece. It is made of sixteen 20-sided icosahedrons, which perch precariously on just 2 triangle faces. Note how the shadows play off of the white to give the illusion of shades of gray.
Click on the picture for a larger view and detail shots.
©Daryl J Ashton 2014